Recycling
Call 512-930-5490 or email info@clawsondisposal.com to find out if recycling services are available in your area. We transport all recyclable materials to Balcones Resources, a comprehensive environmental services company specializing in recovering resources through recycling, document and product destruction, and alternative energy.
Recycling Collection Calendars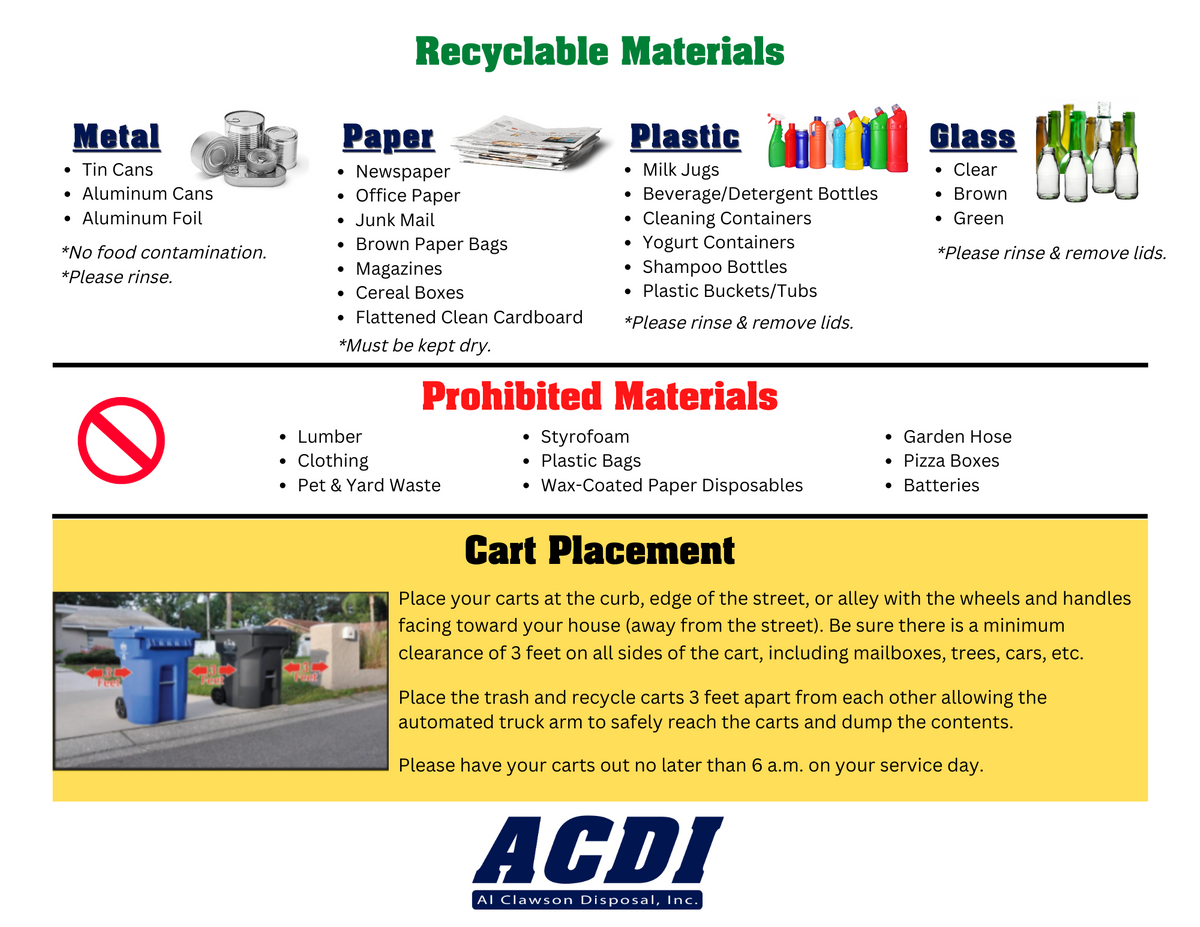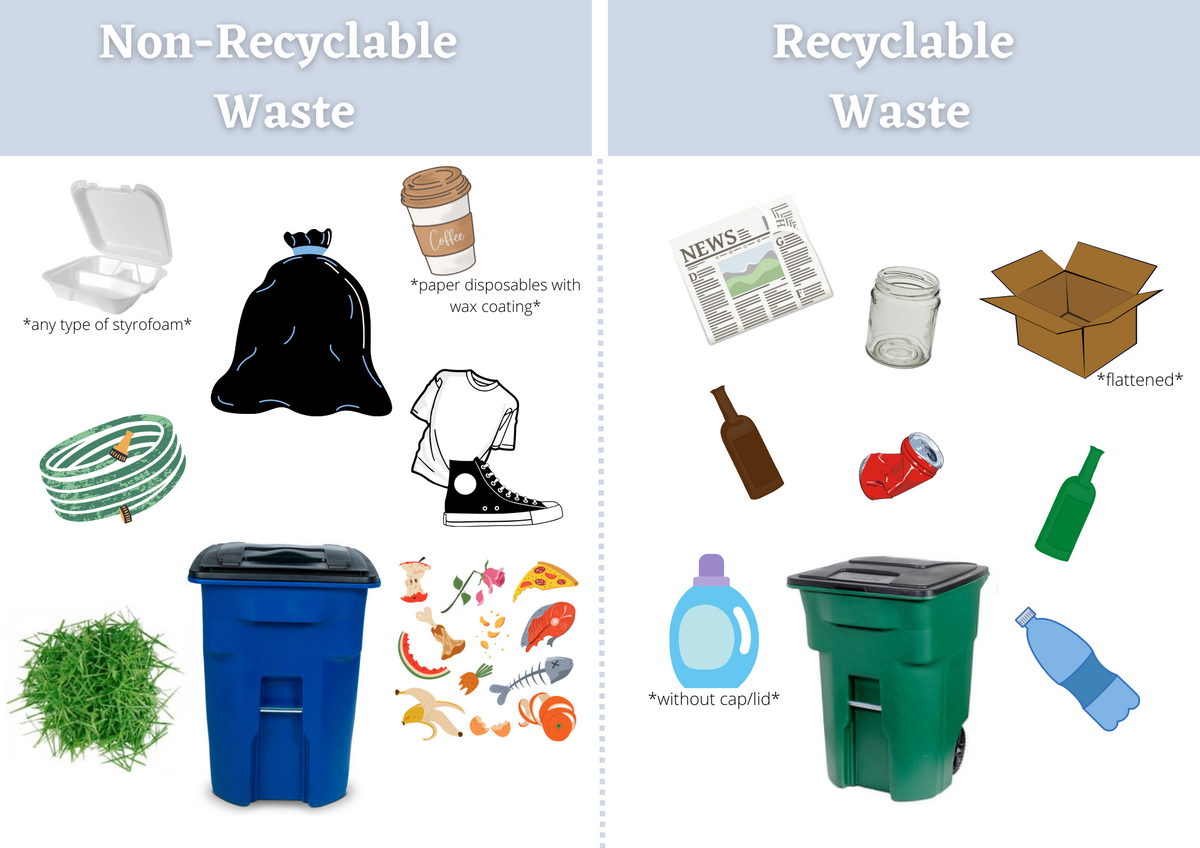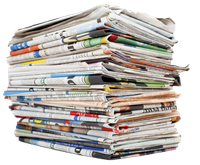 Paper
Newspaper, office paper, junk mail, phone books, brown paper bags, magazines, paperboard-cereal boxes, cardboard-flatten
Please keep all paper products dry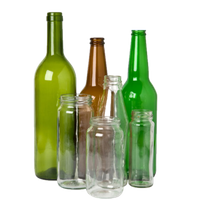 Glass
Clear glass, green glass, brown glass, blue glass
This includes bottles and jars.*
*Please rinse and remove lids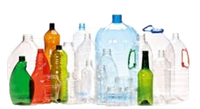 Plastic
#1 Polyethylene Terephthalate* (PET)
Soft drink, water, and other beverage bottles, detergent and cleaning containers, peanut butter and other food containers and bottles
#2 High Density* Polythylene (HDPE)
Milk and water jugs, laundry detergents, shampoo bottles
#3 Polyvinyl Chloride* (PVC or V)
Clear food packaging, cling wrap, detergents and window cleaner bottles, some plastic squeeze bottles, cooking oil and peanut butter jars
#4 Low Density Polyethelene* (LDPE)
Bread, frozen food, most plastic wraps, some bottles
#5 Polypropylene* (PP)
Deli soups, syrup, yogurt and margarine containers, clouded plastic containers, baby bottles, straws
#6 Polystyrene* (PS)
CD cases, disposable cutlery, food containers, packaging, egg cartons, exception of #6 Styrofoam
#7 Mixed* (other)
Most plastic baby bottles, 5-gallon water bottles, "sport" water bottles, clear plastic "sippy" cups
*Please rinse and remove lids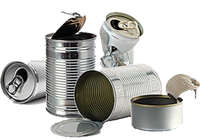 Metals
Tin cans*, aluminum cans*, steel cans*, and aluminum foil**
* Please Rinse
** No food contamination please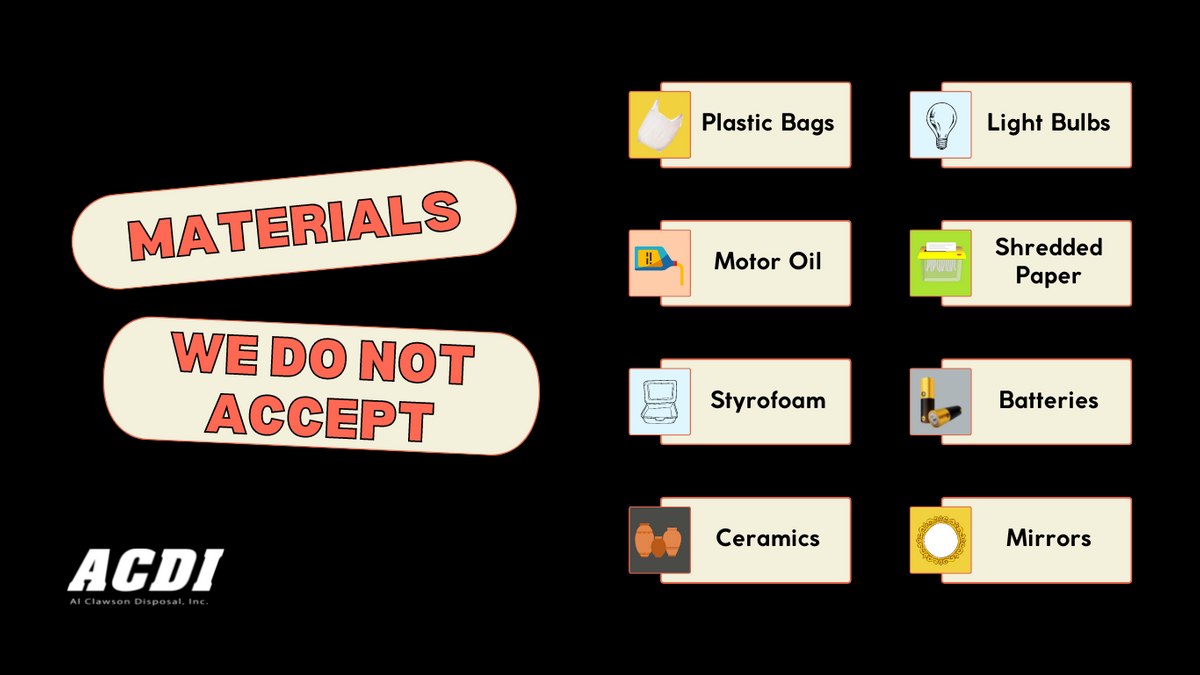 Holiday Collection Schedule
All ACDI departments are closed on Thanksgiving, Christmas, and New Year's Day. Service runs as scheduled when these holidays are on the weekend.
When one of the above holidays falls on a weekday, and your regular service day is on or after the holiday, your service will be one day later than usual.
For example, Thanksgiving 2023 is on Thursday, November 23rd.
Regular Service Day of 11/23 is now 11/24.
Regular Service Day of 11/24 is now 11/25.
Contact Us Regarding Recycling Services
Please include the service address in the comments.