Recycling
Below you will find the recycle calendars (please call and verify what week you are) and a list of materials we accept and materials we do not accept. We ask that you do not bag your recycle material. For questions or more information, please fill out the electronic form at the bottom of the page.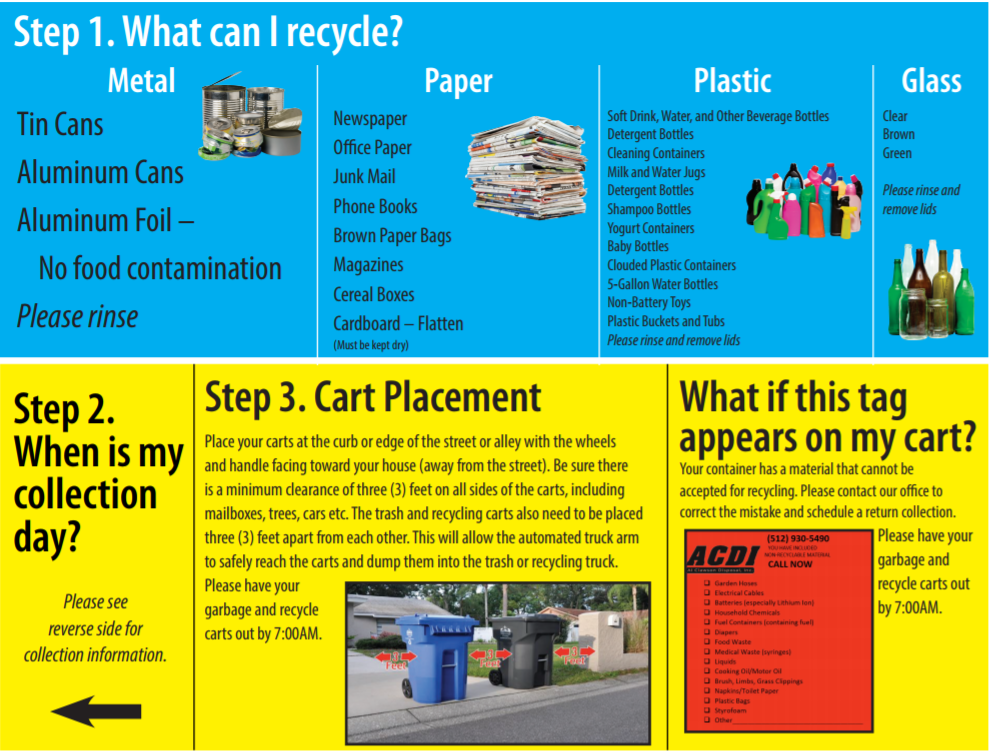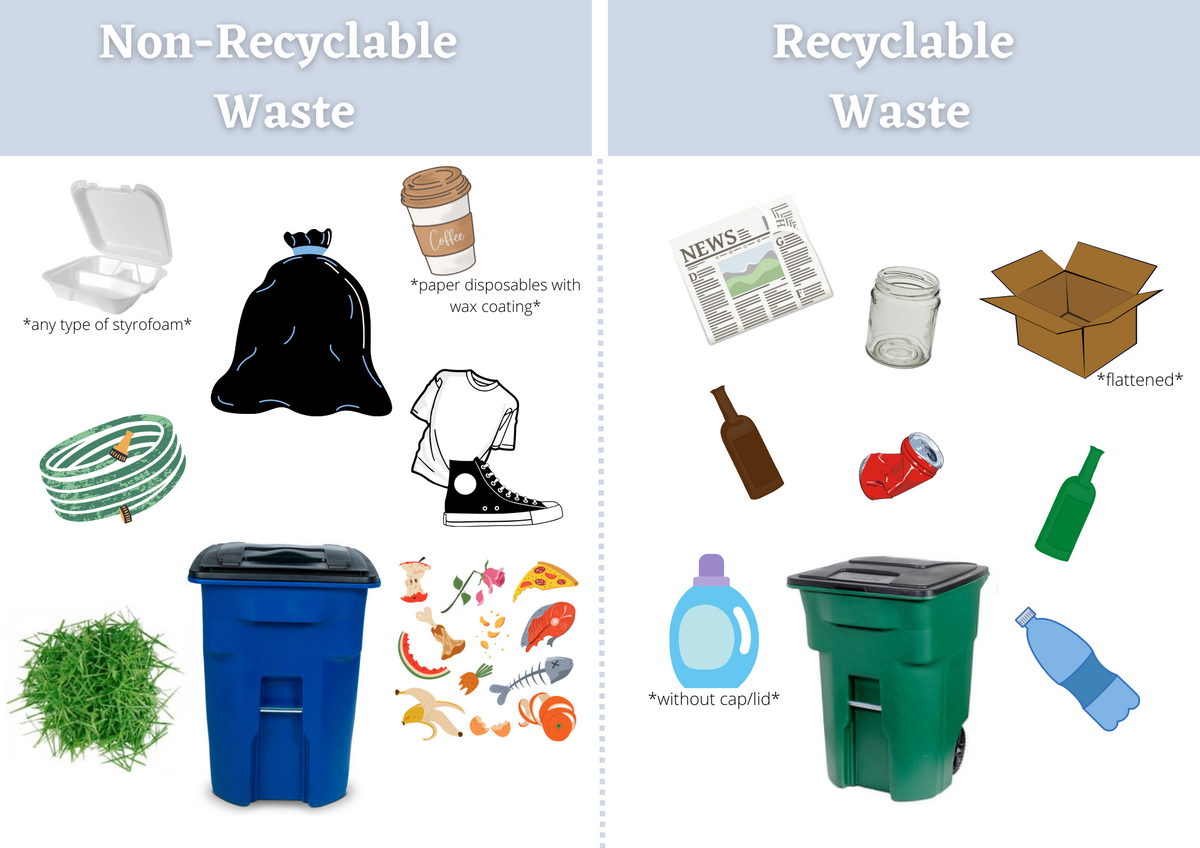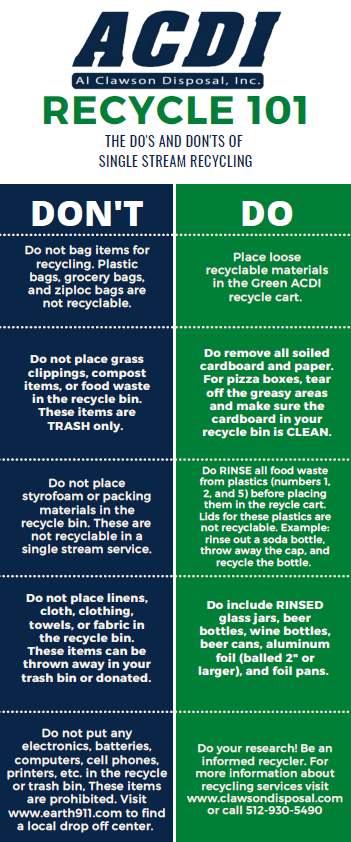 Holiday Collection Schedule
We will be closed for the following holidays:
-New Years Day
-Thanksgiving
-Christmas Day
If your pick-up day is on or after a Holiday, you will be picked up one day late that week only.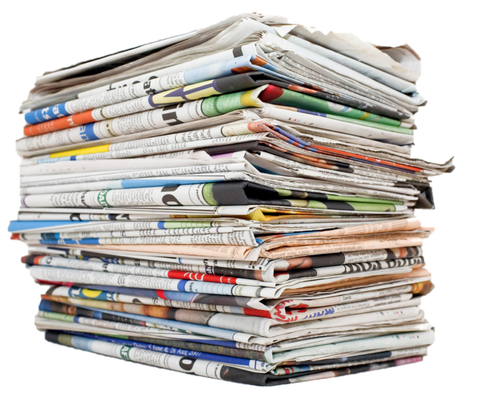 Paper
Newspaper, office paper, junk mail, phone books, brown paper bags, magazines, paperboard-cereal boxes, cardboard-flatten
Please keep all paper products dry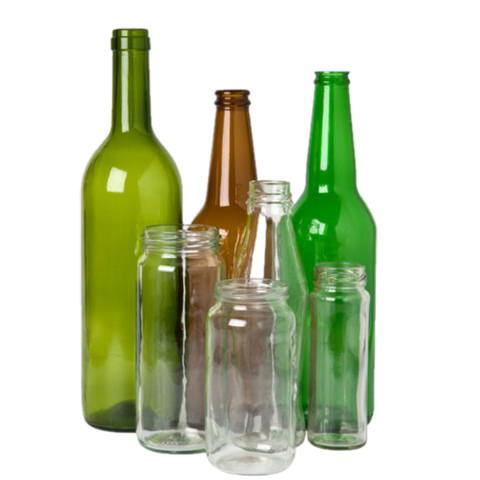 Glass
Clear glass, green glass, brown glass, blue glass
This includes bottles and jars.*
*Please rinse and remove lids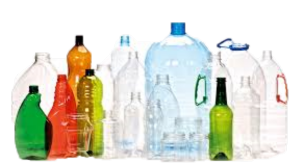 Plastic
#1 Polyethylene Terephthalate* (PET)
Soft drink, water, and other beverage bottles, detergent and cleaning containers, peanut butter and other food containers and bottles
#2 High Density* Polythylene (HDPE)
Milk and water jugs, laundry detergents, shampoo bottles
#3 Polyvinyl Chloride* (PVC or V)
Clear food packaging, cling wrap, detergents and window cleaner bottles, some plastic squeeze bottles, cooking oil and peanut butter jars
#4 Low Density Polyethelene* (LDPE)
Bread, frozen food, most plastic wraps, some bottles
#5 Polypropylene* (PP)
Deli soups, syrup, yogurt and margarine containers, clouded plastic containers, baby bottles, straws
#6 Polystyrene* (PS)
CD cases, disposable cutlery, food containers, packaging, egg cartons, exception of #6 Styrofoam
#7 Mixed* (other)
Most plastic baby bottles, 5-gallon water bottles, "sport" water bottles, clear plastic "sippy" cups
*Please rinse and remove lids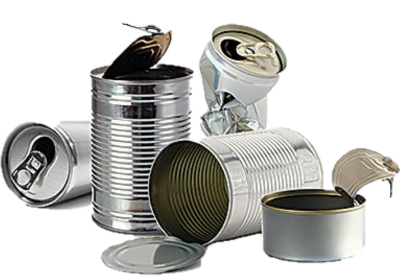 Metals
Tin cans*, aluminum cans*, steel cans*, and aluminum foil**
* Please Rinse
** No food contamination please
Materials we do NOT accept
Plastic bags, light bulbs, mirrors, ceramics, motor oil, batteries, electronics, brush, yard waste, Styrofoam, and shredded paper
Information on Recycling Services
Inquiring about Recycling? Please provide the following information. To better assist you, include the service address in the comments. We will contact you soon, thank you.