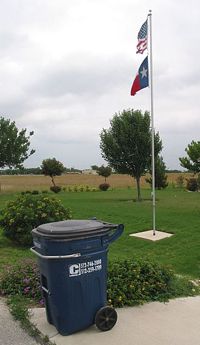 Al Clawson Disposal, Inc. (ACDI) has been providing safe and reliable residential solid waste service since 1982. Whether you are an individual homeowner, homeowner's association, or a municipality, we have the resources available to serve all types of customers and will strive to maintain a trusting relationship. Our residential subscription service includes a 95 gallon container.
We will impose a fee per additional item and should you have excessive waste on a weekly basis and would require an additional container, please contact our office.
For additional items, please see our list of Bag Tags.
If our service is being provided to you through a Homeowner's Association (HOA) or a Municipality contract, please contact our office for details of your service.
Residential Helpful Information:
Please have your cart placed at the curb by 6:00 a.m. on your service day.
Do not pack trash/garbage in your container tightly or place objects that could lodge against the sides that impede the emptying of your container.
Do not fill your container above the rim obstructing full closure of the lid. (A fully closed lid helps prevent litter, odor, and spillage.)
In the interest of container cleanliness, we encourage you to use plastic bags for your waste and periodically clean out your container with bleach and water.
We are able to continue picking up bundles of brush if the brush is cut in approximately 3 to 4 foot lengths and not to exceed 40 pounds. Bundles must be tied with string or rope capable of holding bundle together when lifted.
Bulky waste (washers, dryers, water heaters, furniture, etc.) will be handled on a case-by-case basis for an additional fee. We do not pickup electronics such as televisions and computer monitors. Please call our office to make arrangements.
Materials we do NOT accept
-NO liquids
-NO rocks / dirt
-NO non-compactable material
-NO construction debris
-NO tires / rims
-NO hazardous waste
-NO televisions
Where Does it go?
Al Clawson Disposal, Inc. (ACDI) transports all solid waste to the Williamson County Landfill. Our company complies with the guidelines established by the facility. The Williamson County Landfill is a Type 1 municipal solid waste landfill that accepts non-hazardous household, commercial, and industrial and special wastes.
Tip to Maintain a Clean Can
Household baking soda works with removing trash odor. Try adding 1/4 cup of baking soda to your container at the start of each week. For best results, add the baking soda when the container is clean and dry.
Holiday Collection Schedule
We will be closed for the following holidays:
-New Years Day
-Thanksgiving
-Christmas Day
If your pick-up day is on or after a Holiday, you will be picked up one day late that week only.
Information on Residential services
Inquiring about Residential services? Please provide the following information. To better assist you, include the service address in the comments. We will contact you soon, thank you.